It is perhaps the most beautiful sports venue in the world. Augusta National, home of The Masters, brings the term "landscaping" to an entirely different level.
Rolling hills of the greenest green grass, broken up by stands of long-needle pines and luscious southern magnolias. All of this, punctuated by mounds of brilliant azaleas and rhododendrons, makes the site a golfer's and plant enthusiast's paradise.
Several years ago, I made my first pilgrimage to this hallowed ground with some of my golf buddies. While they were focused on catching a glimpse of Tiger Woods, I spent my day checking out a different kind of woods. My camera was focused away from the golf action and into the quiet beauty around me. Several times, my friends had to pull me away from the dogwood trees and remind me that we were there to watch golf.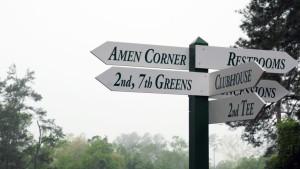 Last year, I returned to Augusta to soak in the atmosphere. I discovered Amen Corner is not just a place professional golfers pray to successfully navigate a golf ball. It's also a wonder of spring color, brilliant enough to make a gardener shout, "Hallelujah"!
What you can't see from watching the television coverage is the dramatic elevation change found on the golf course. The hike down and back is quite a workout, even if you aren't carrying golf clubs. The topography and swirling breezes are conducive to both golf and plant health. In fact, before Bobby Jones hired Alister MacKenzie to build the golf course, the property was a nursery and one of the first big growers of rhododendron in the United States. Plants are such a important part of Augusta National that each of the 18 golf holes is named after a different plant species.
While we enter The Masters through the patrons gates, the golf legends drive down Magnolia Lane, though a virtual tunnel of green foliage, to reach the clubhouse. At the end of the lane, the clubhouse is fronted by an island of grass with the famous Masters logo created by yellow pansies arranged in the shape of the United States.
The course side of the clubhouse is dominated by a majestic Live Oak tree. Planted in the mid-1800s, this tree provides a canopy of cooling shade after a day of challenging golf.
There is amazing attention to detail at Augusta National. The edge between the pine straw and mulch is perfect. Sand bunkers are expertly raked and all have crisp, manicured edges. Groundskeepers take painstaking care of every flowering plant and tree to ensure that all are in perfect health, ready to provide an ideal environment for the enjoyment of both players, patrons and television viewers.